Auburn High School
Class Of 1962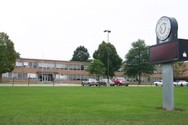 50th Reunion
The Auburn Class of 1962 50th Reunion was held on June 22-23rd, 2012.
On Friday, June 22, at 7:00 PM we had aSocial Gathering at Mah-Nah-Tee-See Country Club, 5151 Guilford Rd, Rockford, IL, approx. 115 classmates attended, we enjoyed talking with our classmates, great appetizers and cool refreshments. Also in attendance were a three of our teachers from Auburn - Mrs.June Filkin Taylor, Mr. & Mrs. Carl & Mary (Zoia) Zentner, they thanked us for inviting them and regretted that their schedules didn't allow them to attend the dinner on Sat.
Tour of Auburn High School, Saturday June 22, at 10:00 AM approx. 34 Clasmates were greeted by Auburn Principle, Mr. Ryan Reinecke. Mr. Reinecke gave us some input on current status of Auburn, and new programs the were in the works. We toured Auburn, provided by two tour guides, current Nationa Honor Sociey members, we met back in the library afterwards for questions and comments.
On Saturday, June 23, 2012, we had the Reunion at The Lombardi Club -209 Olive Street, Rockford, IL. It was attended by about 130 total guest, including 77 Classmates! It was a wonderful time for all, showing of the Auburn DVD, including pictures of those who attended the 45th Reunion. We had an old time Photo Booth that eveyone was asked to have their photo taken, will post copies of these in the near future. The dinner was catered by ABC Catering, which was very good, don't think anyone left hungry! Mary Spaulding was the program MC, thanked all for attending, had the answers to the Auburn Quiz, some Auburn Trivia. Great Job Marty!
THANK YOU TO ALL CLASSMATES WHO ATTENDED THE 50TH REUNION, IT WAS A GREAT TIME!
THE COMMITTEE WOULD LIKE TO THANK EVERYONE FOR THE MANY WONDERFUL COMPLIMENTS THAT WE HAVE RECEIVED, WE THANK ALL OF YOU FOR COMING AND MAKING IT SUPER 50TH TO REMEMBER!
ATTN: TO ALL CLASSMATES WHO ATTENDED THE REUNION AND TOOK PICTURES, PLEASE SEND ME YOUR PHOTO FILES AND WILL POST THEM ON OUR WEBSITE - THANK YOU!