Auburn High School
Class Of 1962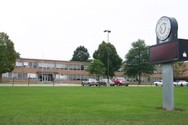 D. J. Tennis Champ
July 24. 2016 4:13PM
Rockford's ageless tennis champ: Auburn grad Dick Johnson 70-over world champion
Dick Johnson, shown playing in Poertschach, Austria, last year, won the 1961 and 1962 NIC-10 singles titles and 1960 doubles title for Auburn and has gone on to win 44 USTA national age-group titles. He is the reigning world champion in the 70-over division. PHOTO PROVIDED
Dick Johnson may not have been Rockford's best high school or college tennis player. The three-time NIC-10 champion was fifth in the state as a senior at Auburn in 1962, but West's Dan Wikse won state in 1965, Guilford's Tracy Fenelon took second in both 1978 and '79, and Guilford's Kevin Park was second in 1996.
But eventually all of those other players grew older.
Johnson, technically, did too, but he aged like Dorian Gray. Now, 54 years after graduating from Auburn and three decades since he left Rockford after 13 years as the pro at what is now the Forest City Tennis Center, Dick Johnson is No. 1 in the world.
Johnson, now semi-retired after 30 years as the teaching pro at St. Louis Country Club, won the 70-and-over World Championship in singles in Croatia last fall. He also won U.S. Tennis Association national titles in 70-over Indoor singles and doubles last year, plus the 65-over Indoor doubles title. He has earned 44 gold balls for USTA national age group titles, by far the most from any player from Rockford.
"He was the one who was not only very good in the beginning, but more than anyone else continued with the sport and continued to do extremely well," said Ron Balsam, who has coached one 50-and-over and two 60-over Rockford teams to USTA nationals. "His game just stayed good. He continued to work on it and get even more consistent. One of the things that makes Dick so great is he doesn't get rushed, he doesn't panic, he doesn't ever get out of his game. That makes it very difficult for people to beat him."
Even for pros to beat him. En route to one of his USTA age-group titles, Johnson beat Alex Olmedo, who beat Rod Laver in straight sets to win Wimbledon in 1959. He also teamed with NIU legend Tom Gullickson to beat Laver and Roy Emerson — who won a combined six Wimbledon singles titles — in an exhibition match at Rock Valley College.
Of course, Johnson said in a phone interview, those players were all a little older than him, but being older has never slowed Johnson.
"He's such a smooth player, cat-like, his body didn't take the punishment the way younger players beat their knees up," said John Torrence, who took fifth at state in 1972 for West and taught with Johnson at the Rockford Indoor Tennis Center (now FCTC). "And he loves the game and kept playing and playing.
"He's unstoppable."
Johnson grew up on Rockford's West side three houses away from Andrews Park, a noted tennis hub at the time.
"There was quite a group of boys in the area and whatever the sport season happened to be, that's what we would play in the park," Johnson said. "I tried to play Little League baseball and softball, but tennis seemed to stick better. It was easier for me to hit a tennis ball than a baseball."
He tried to turn pro after graduating from Western Michigan.
"That was in the real early days of the satellite tournaments," he said. "There was no prize money. If you were a big enough name, you could get free housing or a few hundred dollars. I never even got that. I played six or seven tournaments one summer. I was used to playing indoors at the old Clock Tower, but most of the tournaments were on clay. I had no experience on clay at that time. Now I have a lot, but then I was clueless. It did not go well."
Clay is now his favorite surface. "When we play in Europe, it's always on the red clay," he said.
He has won his USTA titles — 14 in singles and 30 in doubles — on all four surfaces: clay, grass, indoor and hard courts. He plays in a league in southwest Germany, playing four matches for a club in Karlsdorf this summer, and heads to Berlin for the league playoffs in September. His 12 tournaments last year included events in Germany, Austria, Croatia and the Czech Republic. Johnson, a member of the St. Louis Hall of Fame, has also been chosen for USTA teams to play in tourneys as far away as Australia.
As his old friends in Rockford keep track from a distance, the "unstoppable" Dick Johnson shows no signs of slowing down. And he has zero regrets about not making it as a pro.
"I look back and wonder if I had tried to play more professionally, would I still be playing now?" he said. "I'm happy just to be alive and to travel around the world and play tennis. It's easy to keep in perspective; I like to win, but if you lose, it's 30 seconds of depression, then you go and have a beer with the guy.
"Playing tennis has helped me stay fit. I'm always afraid to stop now."
— Matt Trowbridge: 815-987-1383; mtrowbridge@rrstar.com; @matttrowbridge