Auburn High School
Class Of 1962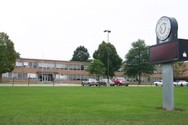 In Memory
Michael J Bates
Michael J Bates
12-29-1944 - 7-8-2022
Dr. Michael Julian Bates, age 77, born December 29, 1944 in Rockford, Illinois to Lottie Wylodean (née Crittendon) Bates and Charles T. Bates, Sr., passed away on July 8, 2022 after a brief/extended illness. He is preceded in death by his mother, Lottie Wylodean Campbell; father, Charles T. Bates; step-father, Taft Campbell, Sr.; brother, Charles Theodore Bates, Sr., [aka Pandit Yogiraj Achala, Babaji]; step- brother, John Lee Campbell, Esq.;stepsister Ora Dell Rowland.
Michael is survived by brother, Larry (Martha) Bates; sister, Elizabeth Moore; stepsisters, Shirley Harris, sister-in-law Vonda Vaden Bates; stepbrother Taft (Joyce) Campbell, Jr., cousin, Willard David Crittendon and several nieces, nephews and great nieces and great nephews.
Michael's first piano lesson were from his mother, Lottie. He studied at the Mendelssohn Club in Rockford with Miss Bernita Foote who was a musician at Bethel Baptist Church, Providence and Pilgrim Baptist Church, before attending college. He holds the following degrees; Bachelor of Music Education cum laude from Bradley University; the Master of Music Degree with a major in Piano Performance and Literature and a Minor in Music Theory from the University of Illinois-Urbana, where his principal study was with the noted composer/concert pianist Soulima Stravinsky; and, the Doctor of Musical Arts Degree with a major in Music Education from The University of Memphis. He taught at Southern University, Central State University and Bradley University before joining the University of Arkansas at Pine Bluff (UAPB) faculty in 1977. In 2018 he retired from UAPB after serving on the faculty for 41 years. Upon retirement, the Board of Trustees of the University of Arkansas System awarded him title of Professor and Vesper Choir Director Emeritus.
While at UAPB, Michael served as a Music Department Chairperson and as President of the Faculty-Staff Senate. He served on the Arkansas Humanities Council, the Governor's Advisory Council on Gifted Education and the Pine Bluff Symphony Board of Directors. During his 19 years as Director of the UAPB Vesper Choir, the Choir toured 22 states, the District of Columbia and NYC, and abroad to cities in Italy (the Vatican) and Spain. During his tenure as Vesper Choir Director nearly $1.5 million dollars was raised and deposited in the University's Development Office and the U of AR Foundation. He was a member of the Indiana Street MBS, where he was Minister of Music and Trustee. Upon his return to Rockford, he reunited with his home church, Pilgrim Baptist Church.
Michael (affectionately called "Uncle Mike"), along with sister Elizabeth and niece Marci, lovingly cared for the Matriarch of the family, "Granny", during the last 12 years of her life. He was loved, respected and admitted by the UAPB family and the Pine Bluff community.
He was a member of many professional and honorary organizations and was the recipient of numerous awards, plaques and recognitions. He leaves behind a legacy of dedications, service, love, accomplishments and excellence.
In lieu of flowers, memorials are suggested to the Community Life Center of Rockford 1011 Bishop Washington Ave. Rockford, IL 61102 and/or UAPB Vesper Choir 1200 N. University Drive in Pine Bluff, AR. 71601
Service to celebrate Michael's life will be 11:00 AM Saturday July 16, 2022 at Pilgrim Baptist Church 1703 S. Central Ave in Rockford; visitation for Michael will be from 10:00 AM until 11:00 AM at the church on Saturday. Burial will follow at Sunset Memorial Gardens in Machesney Park, IL. Condolence may be left for Michael at www.sunsetfhmemgardens.com
Posted online on July 12, 2022
Published in Rockford Register Star