Auburn High School
Class Of 1962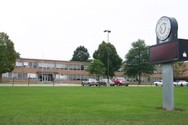 In Memory
Robert Cooney

Carl Robert "Bob" Cooney
1944 - 2021
Carl Robert "Bob" Cooney, 76, of Rockford, IL, passed away at home surrounded by his loving family on Saturday, October 30, 2021. He was born on December 28, 1944 in Rockford, IL, the son of John and Mary (Manalli) Cooney.

Bob attended St. Patrick and St. Thomas schools, and is a graduate of Auburn High school and Rock Valley College. He served his country for 4 years in the United States Navy from 1962 – 1966. Bob married Sandra "Sandy" J. Fossett in March of 1968. He worked for National Lock, as a Licensed Real Estate Broker, and at Kishwaukee Tap for 20 years. In 2000, he purchased the Grant Park Tavern in Rockford and ran it up until the time of his death. Bob was a member of the Lombardi, Giuseppe Verdi, and St. Ambrosia clubs in Rockford for many years. He enjoyed playing pool, doing yardwork, loved his 3 dogs and spending time with his family, friends and the loyal patrons of Grant Park Tavern. Bob was known for his sense of humor and the ease with which he was able to make new friends, and will be missed by all that knew and loved him.

Bob is survived by his wife of 53 years, Sandy; children, Tracey (John) Pozzi, Toni (Tom) Dole, Nicholas (Vicki Atkins) Cooney and Bryan Ullrich; grandchildren Brittany Pankhurst, Ashley Cooney, Luciano Pozzi, Courtney Cooney, Nicholas Cooney Jr., Cassiana Pozzi, Jonah Dole, Jude Dole and Birdie Dole; great-grandchildren, Hannah, Jaxon, Ariana, Kayden, Jace, Jaxxon and Jayce. He is preceded in death by his parents and sister, Cecilia "Cece" E. Aumann.

Bob's family would like thank Jack Bowers for his lifelong friendship, his first grandchild, Brittany for being a wonderful caregiver, loyal and trusted friends and employees, Kristen and Terry Dunn and the rest of the crew at the Grant Park Tavern.
Published by Fitzgerald Funeral Home & Crematory LTD - Mulford Chapel from Nov. 30 to Dec. 1, 2021.