Auburn High School
Class Of 1962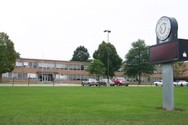 In Memory
Marilyn McBride (Allen)
MARILYN JEAN (MCBRIDE) ALLEN
AUGUST 7, 1943 - APRIL 16,2016
Marilyn is remembered as being a loving and caring friend and Grammy Marilyn to her
4 beautiful grandchildren. She was always one who would lend a listening ear. She spent her time tending to her flowers and loved being outside. Marilyn was known to do "a little bit of gambling" and enjoyed going to casinos with her friends. She treasured her angel collection and will be remembered as an angel herself to those who knew her.
Marilyn is survived by her daughter: Ginger Lynn Allen and her grandchildren: William Allen Hodge, Sterling Wayne Robert Allen, Olivia K Allen-Limberg and Dalton James Allen-Limberg.
She is predeceased by her daughter Kari Ann Allen, the father of her children: Wayne Russel Allen and her father; Cleatus Mcbride.
Funeral services will begin at 10am Monday April 22. A visitation for Marilyn will be held Monday at 9am until the time of service.