Auburn High School
Class Of 1962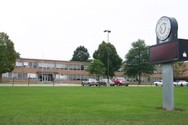 In Memory
Ila Stark (Browning)
ILA MARIE (STARK) BROWNING
1944 - APRIL 26, 2014
ILA MARIE BROWNING, 70 OF WHITE PLAINS DIED SATURDAY, APRIL 26, 2014, AT BAPTIST HEALTH MADISONVILLE, KY. BORN OCTOBER 28, 1943 IN PLATTEVILLE, WI., TO THE LATE WILLAM & VERDA (PETERSON) STARK.
SURVIVORS INCLUDE TWO SONS, KENNETH BROWINING & KEVIN BROWNING.
Bandy Funeral Home is in charge of arrangements. Memorial service is planned at a later date.